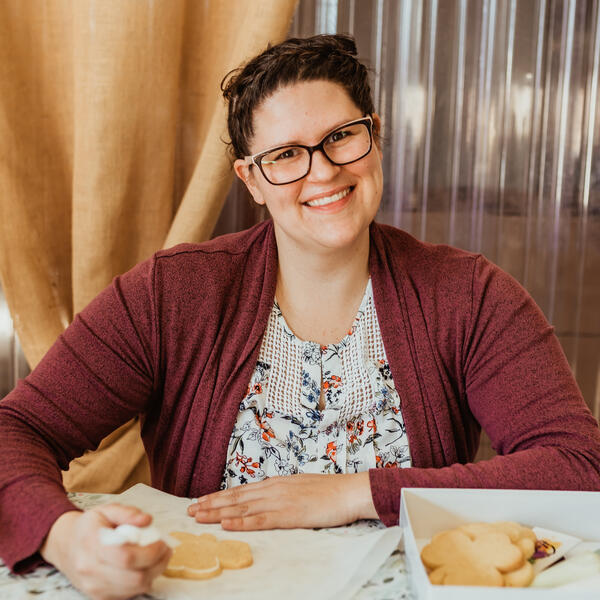 About Hungry Cookies
Owned and operated by Emily Ayers
Homemade custom cookies made for all occasions. Started in 2019 and growing ever since. Hungry Cookies is licensed and permitted cottage food business located in Ellensburg, Washington.
Gallery of Previous Work
Owner, operator, cookie designer, baker, and decorator
About Me: Emily Ayers
Hello,
I'm Emily Ayers a wife, mother, prek teacher, and owner of Hungry Cookies.I started decorating cookies just before the Covid shut down. I practiced and gave away a ton of cookies, before I realized that I could be charging for them. I worked to get my home kitchen licensed and permitted and became an official business in October 2020. Decorating cookies is my creative outlet that I do at night after my boys go to bed. I love decorating so much, it brings my family and I so much pride and joy to see the finished products.My family life is my first priority and I have found ways to keep a good balance between them and my cookie business. This is why you will find that I only have cookies due on Wednesdays and Fridays. This allows me to keep my weekends clear to spend dedicated time with my family.
Thank you!
I am glad you joined my email list. I look forward to talking with you soon.
portable storefront
Pop Ups
Pop ups are in essence a little self sufficient store. Usually in the form of a booth. This allows me to be able sell my cookies at other locations, since I do not have a store front (in compliance with my permits).It is common for me to attend the Ellensburg and Cle Elum Farmers Markets during the summer months and many holiday bazars in the winter.Below are the usual offerings you will find at my pop up.
Single Cookies

DIY kits

Cookie Cupcakes

Mini Cookies

Naked Cookies (unfrosted)
To know when and where my next pop up will be
join my...
Email List
By joining my email list you will receive special offers and get first notice of upcoming pre-orders. A monthly email update will provide anything you need to know for the upcoming month.