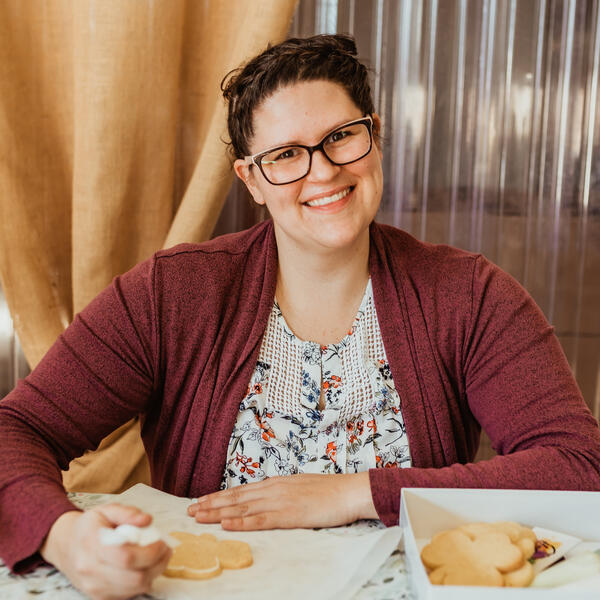 Hungry Cookies
Homemade custom cookies made for all occasions. Started in 2019 and growing ever since. Hungry Cookies is licensed and permitted cottage food business located in Ellensburg, Washington.
Owned and operated by Emily Ayers
About Hungry Cookies
In the midst of the Covid shut down came an opportunity for me to build a hobby into a business. Below are the products I offer.
Custom Cookies
Custom Cookies can be ordered all year, for any type of event. I am creative and can custom design cookies to match any theme.
Cookie Parties
Every thing you need is provided for you and your friends or coworker to have fun and learn how to decorate beautiful cookies. No experience is required.
Seasonal Pre Orders
Throughout the year, during busy holidays, there will be seasonal sets available for sale. These sets are often smaller than you can get through a custom order.
Pop Up
All year long I participate in events where I will sell my cookies. These take place in Ellensburg and near by towns and are through out the year. To see where I will be check out my schedule below.
---
Contact for Pricing
Custom Cookies
Custom Cookies start at $40 a dozen with a one dozen minimum order. 2 weeks noticed is needed for orders. Sketches are drawn up and and approved before they are made. All cookies are delicious sugar cookies decorated with royal icing.
| One Dozen | Two Dozen | Three Dozen + |
| --- | --- | --- |
| 12 Cookies | 24 Cookies | 36 Cookies + |
| 3-4 Colors | 3-4 Colors | 4-5 Colors |
| 3 Designs | 4 Designs | 5 Designs |
Additional charges apply for metallic colors, local delivery, sprinkles, and orders made with less than two weeks notice.
---
Price Per Person
Cookie Parties
Each person receives a box with everything they need for the party. The box includes already baked cookies, icing, tooth picks, paper towels, and a practice sheet. I will walk every through step by step how to decorate the cookies start to finish.
| Basic Package | Upgraded Package | Premium Package |
| --- | --- | --- |
| $30 a person | $35 a person | $40 a person |
| 6 cookies | 10 cookies | 12 cookies |
| 1-2 designs | 2-3 designs | 3-4 designs |
| 1.5 hours of instruction | 2 hours of instruction | 2 hours of instruction |
Limited Quantities
Seasonal Pre Orders
Pre-orders are available for only limited time. I will take orders and then have them available on a pre determined date with a large time window to pick up. This is a great way to get smaller amounts of cookies for popular holidays. Price varies on what is available. Since quantities are limited it is best to order early.
Christmas

Easter

Mother's Day

Father's Day

Valentine's Day
Check my social media to get the most up to date information on pre-orders.
Want the most up do date information?
Sign up for my...
Email List
By joining my email list you will receive special offers and get first notice of upcoming pre-orders. A monthly email update will provide anything you need to know for the upcoming month.
Owner, operator, cookie designer, baker, and decorator
About Me: Emily Ayers
Hello,
I'm Emily Ayers a wife, mother, prek teacher, and owner of Hungry Cookies.

I started decorating cookies just before the Covid shut down. I practiced and gave away a ton of cookies, before I realized that I could be charging for them. I worked to get my home kitchen licensed and permitted and became an official business in October 2020. Decorating cookies is my creative outlet that I do at night after my boys go to bed. I love decorating so much, it brings my family and I so much pride and joy to see the finished products.

My family life is my first priority and I have found ways to keep a good balance between them and my cookie business. This is why you will find that I only have cookies due on Wednesdays and Fridays. This allows me to keep my weekends clear to spend dedicated time with my family.
Gallery of Previous Work
Thank you!
I am glad you joined my email list. I look forward to talking with you soon.
portable storefront
portable storefront
Pop Ups
Pop ups are in essence a little self sufficient store. Usually in the form or a booth, I am able to sell my cookies at other locations, since I do not have a store front (in compliance with my permits). I do this throughout the year, although much more often in the summer.

Below are the usual offerings you will find at my pop up.
Single Cookies

DIY kits

Cookie Cupcakes

Mini Cookies
2021 Scehdule
| Where | When | Time |
| --- | --- | --- |
| Cle Elum Public Market | July 7th | 10am-2pm |
| Cle Elum Public Market | August 4th | 10am-2pm |
| Ellensburg Farmers Market | August 21st | 9am-1pm |
| Jerrol's | September 18th | 10am-1pm |
| Ellensburg Farmers Market | October 30th | 9am-1pm |
| CWU's Ware Fair (CANCELED) | December 2nd-4th | 10am-7pm |
| Cle Elum Winter Market | December 4th & 18th | 10 am-3 pm |
pre-order now
Holiday Cookies
These cookies are for a pre-order. By pre-ordering you can customize phrases and names, and be able to get the coffee cup cookie with a gift card. These features are not available when you pick up at an event.
Pick Up Dates and Locations
Saturday Dec. 4th - My Home (Ellensburg)
Saturday Dec. 18th - My Home (Ellensburg) or Cle Elum Holiday Market